This page Contains Free Help for the Etsy Seller & Any Online Seller
Best Articles Collected in One Eas
y Place
This Page is Sponsored by: BigFatDaddys.Marketing
Help With Selling on Etsy
(Last Updated 6.14.2017)
I've written a lot of articles on Etsy, and here I present them to you for your reading pleasure! I hope that it helps you succeed!
Articles by Cindy Fahnestock-Schafer
10 Tips for Etsy Sellers
10 Tips for Etsy Sellers
How to Sell Vintage on Etsy
How to Sell Vintage on Etsy
Etsy Marriage Helpful Marketing Approach
by Ira Mency on Handmadeology
PIF?
Pay it Forward, How they Help your Etsy Shop by Etsy Recyclers Guild
Selling on Etsy
All sellers need to read this.
Do's and Don'ts on Etsy
Help on Etsy
Etsy Official Help Home Page
Join the Etsy Success Team
Etsy Success
Help for Any Online Seller (Pricing & Photography)
How to Price Your Items
How to Price Vintage
Free Photo Editor
PicMonkey
Photography Help
Tutorial by An Blath Paipeir
How to Get Studio Quality Photos At Home
by Anna From House of Mouse
Help (Marketing, Social Networking, etc)
Marketing Tips
Read it Here by Ira Mency
Every Opportunity is a Marketing Opportunity
Marketing Article
TweetDeck Application (to automate your posting)
Get it here!
Facebook Pages : Pick an Easy URL Username!
Facebook User Name
Google Analytics to View Traffic Sources
Proof in Analytics by Ira Mency
5 Part Series : How to Get Your Art in a Gallery
Blog Features on Sites That Feature Etsy Sellers (Trades or Cheap Features )
Get a
Free Blog Post on Etsy Rainbows
E
tsy Rainbows Get Featured
Get a Free
Blog Post on Etsy Artisan
s
Etsy Artisans

Get Featured
Need More Help
for your Etsy Shop? Buy a Shop Critique!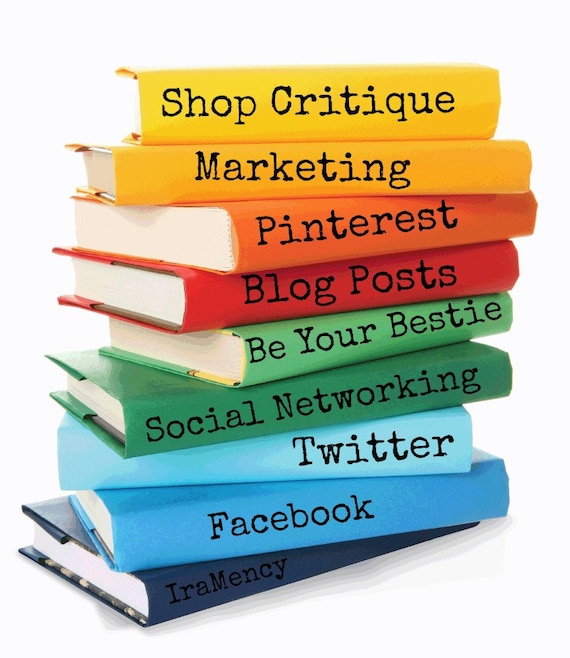 Full Etsy Shop Critiques, Marketing Packages, etc
Contact me directly here
as I no longer sell these in my Etsy shop.