A

ll You Need in One Place!

S

ome will take you off site. All have been Vintage Chalet approved!
Free Help for the Etsy Seller & Any Online Seller
Best Articles Collected in One Eas

y Place
This Page is Sponsored by: BigFatDaddys.Marketing
Help With Selling on Etsy
Selling on Etsy
All sellers need to read this.
Do's and Don'ts on Etsy
Help on Etsy
Etsy Official Help Home Page
10 Tips for Etsy Sellers
Squidoo 10 Tips for Etsy Sellers
How to Sell Vintage on Etsy
How to Sell Vintage on Etsy
Etsy Storque Blog
Quit Your Day Job Series
Etsy Marriage Helpful Marketing Approach
by Ira Mency on Handmadeology
Join the Etsy Success Team
Etsy Success Team
Tagging Items
Use all 14 on Handmadeology
Embed your Treasury
Free Tool on Whale Shark
Find out How Many Treasuries You Were In
By Craftcult
Pay if Forwards
Pay it Forward, How they Help your Etsy Shop
Add A Wee "Pocket Shop" to Your Site or Blog
Pocket Shop by CraftCult
Find out What Your Inventory is Worth
Cool Tool By Etsy Hacks
Help for Any Online Seller (Pricing & Photography)
How to Price Your Items
How to Price Vintage
Free Photo Editor
PicMonkey
Photography Help
Tutorial by An Blath Paipeir
How to Get Studio Quality Photos At Home
by Anna From House of Mouse
The Correct Way to Make a Treasury
Correct Way to Make a Treasury
Giveaways Giveaway, do they help? (Coming Soon) Secrets to a good giveaway


Help (Marketing and Social Networking, Website Hosting)
Marketing Tips
Read it Here by Ira Mency
Every Opportunity is a Marketing Opportunity
Marketing Article
Twitter Jargon and Explanation
Webopedia
TweetDeck Application (to automate your posting)
Get it here!
Facebook Pages : Pick an Easy URL Username!
Facebook User Name
Ideas to Drive Traffic to Your Blog
by Mark Bennett
Understanding RSS Feeds
By Brent Rings
Understanding Google Analytics
By Creative Design
Google Analytics to View Traffic Sources
Proof in Analytics by Ira Mency
Sites You Can Submit Your Blog to For Free
50 Sites (*skip any paid ones!)
Understanding Backlinks (and Importance of)
Importance of Backlinks by Fine Heart
Add your Vintage Item to a Linky List for Free
Free Linky List
Building Backlinks by Forum Posting
by M. Rooney
Web Hosting 101
How To Sign up For Web Hosting
5 Part Series : How to Get Your Art in a Gallery
Advertising and Blog Features
Get a
Free Blog Post on Etsy Rainbows
E
tsy Rainbows Get Featured
Get a Free
Blog Post on Etsy Artisan
s
Etsy Artisans

Get Featured
Project Wonderful(Affordable Advertising)
An Article about Project Wonderful
Need More Help
for your Etsy Shop? Buy a Shop Critique!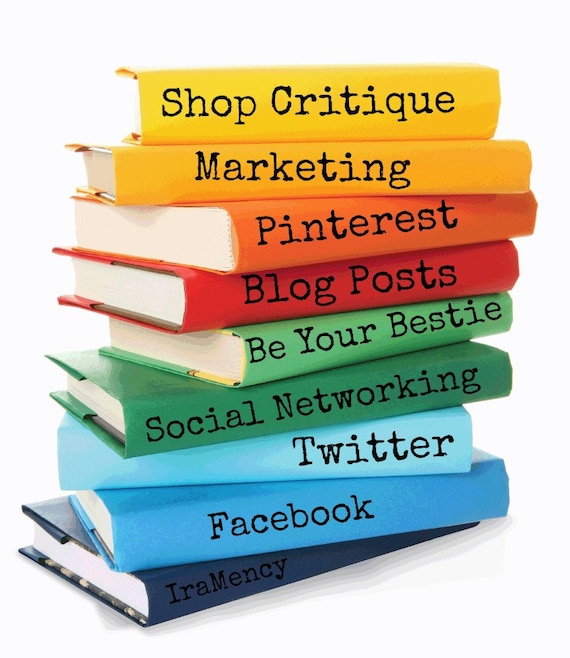 Full Etsy Shop Critiques, Marketing Packages, etc
SEE THEM HERE