Vintage Div

as

: Listen up, this coffee is for you!
The only thing I like more than vintage (or blogging) is coffee. You may have just read my post on
vintage coffee pots
not to long ago, and I have to admit, I'm a sucker for a good cup of java.
I just came across
Happy Home Foods on Etsy,
and they have taken things back into vintage ways. For instance, half my life I finally realized while looking down through the clear glass table at the coffee shop that the beans started green--what???? Of course, they were roasted.
We are so set in our ways of buying regular ground coffee (or some of us buying beans and grinding them) that we forget how it used to be done. In the olden days, you would revel in the love of roasting your beans, and making your coffee. OMG! What a great idea! Smell up that kitchen !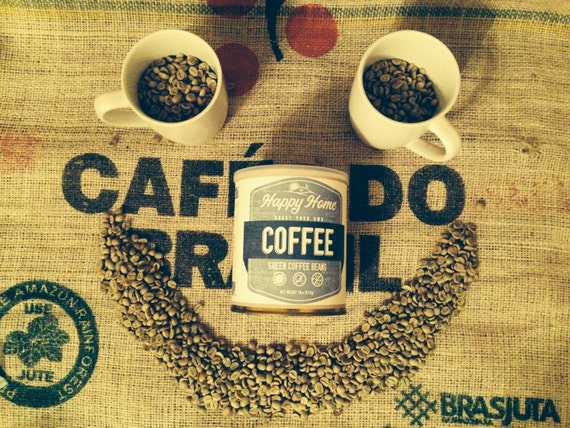 Happy Home Foods : Roast your Own coffee, The Next Big Thing on Etsy
So, Happy Home Foods has figured out that perhaps, they can put a little vintage living back into your life and get you to
Roast Your Own Coffee
.
What a great idea. I asked them just what made them do this?
"We started Happy Home Foods in 2013 and really wanted to bring the joy of roasting your own coffee back to everyone. We aim to make it as simple as possible to teach people how to roast their own coffee. We think we all need a little bit of slowing down in life to stop and appreciate the simple things in life, like coffee."
I couldn't agree more.
So easy, I can do it, the instructions are on the back.
Oh, and did I mention it's canned in the USA?
Here's details, for a $14.99 can you get:
• 18oz- 100% Premium Brazilian Arabica Beans - Quality Coffee Starts with Quality Beans
• Green Coffee Beans = Unlimited Types of Roasts
• Makes Up to 45 Cups of Coffee per Can (6oz cups)
• Sealed From the Elements- Oxygen, Moisture, and UV Light To Protect Freshness
• Easy to Follow Roasting Instructions
• Re-Usable Plastic Lid for Storing Roasted Beans
• Canned in the USA
What are you waiting for?
Go stock up NOW at Happy Home Foods on Etsy
(We all know that roasting your own coffee is way fresher than you can buy. )