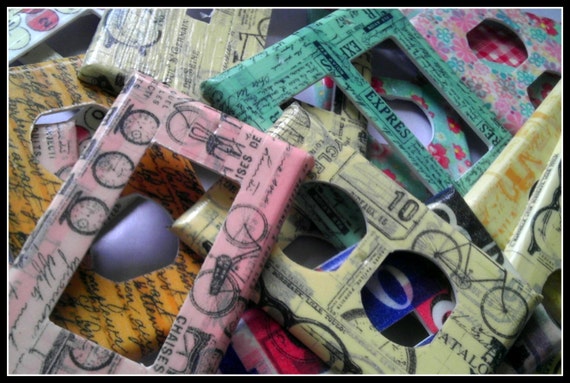 These outlet covers are

collaged

with vintage papers, and are only $9 each at MadameCollage.
We talk a lot about vintage items from Etsy here on
VintageChalet,
and recently I've added the
Living Vintage
page, which is essentially all the great vintage inspired products for our life! This is including new products, vintage inspired and recycled. Today I'm featuring the latter, upcycled collage creations from a great seller from Austin, Texas.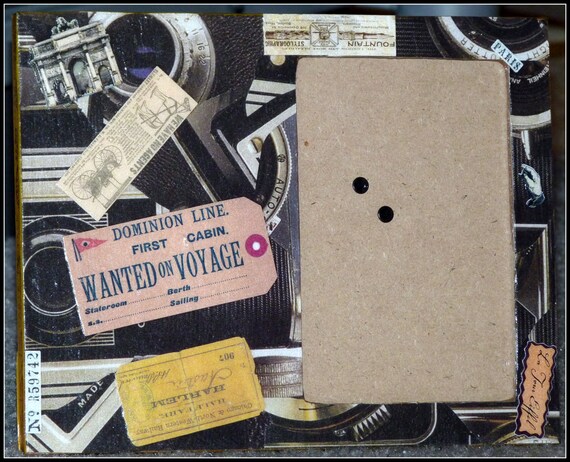 Voyage Frame by Madame Collage, $15 on Etsy
We're having a virtual sit down with
MadameCollage,
a great Etsy artist who makes collaged items to look so wonderful in your home.
Q: Tell us exactly what you do and how you are inspired.
A: I revamp old things! Essentially I make decor and furniture items for the home. One of the lines of my store is French artistry meets Austin originality. (Wabi-Sabi Creations. 50% Texas, 50% France, 100% original! ) Each handmade functional art piece is completely unique , and a reflection of "perfectly imperfect" design.
Q: What brought you to Etsy and what does it mean to you?
A: To me, Etsy is the best support to promote handmade and artist made products. MadameCollage is all about originality. I glue everything I find, give a new life to boring objects, boxes etc... Each creation is handmade and totally unique. All types of papers are used.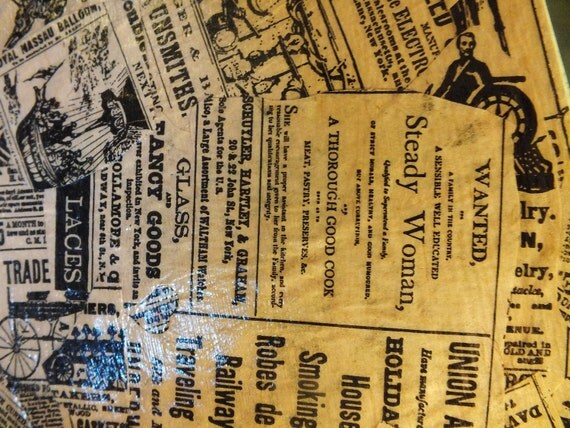 Details of Steady Woman Trunk, old ephemera adorns this creation by Madame Collage
Q: What else should people know about your products?
A: These items are not mass-produced and show cute imperfections, They are unique and original.Our collages are realized using only the best quality media, always acid and lignin free (pictures, newspaper, book, scrapbook, washi tape...) Each piece is sealed and durable. Making new with old, making different...
Q: Where can we find you ?
I am selling through art and craft shows , my
Madame Collage Etsy shop
or you may visit my
Facebook Page
.
Hey,

c

an you gue

ss what this is?
Go here to Etsy find out.