Vintage milk bottle a steal at only $6.95 on Etsy shop ForgottenCommodities


We have found this great Etsy shop called
Forgotten Commodities
which features a large selection of vintage kitchen wares. We had a chance to talk to the owner, Tiffany all the way from Elkhart, Indiana and found out what makes inspires her!
Q : Why and when did you start selling vintage?
A: I opened my shop in June 2014. I have a love and appreciation of all things vintage, with a specific interest in housewares and décor. I began collecting vintage items over the last decade and realized that I had so much of it in my home that I needed to spread the love to make room for more. Instead of simply donating to the local thrift store, I decided that I could turn my hobby into a money making opportunity. So now I can still enjoy "picking" to my hearts content, and share it with the world via my Etsy shop.
Q: What your favorite vintage items are or what you collect?
A: I absolutely love vintage items that can store something inside. Be it crates, canisters, tins, or cases. There's something about the dual purpose of an item that appeals to me. First that it's decorative and appealing to the eyes, and also that it's practical and has a real purpose. Let's face it, we all need the extra storage. What better way to get it than to put your home décor to work?
These glasses are $19.95 and from 60's-70's era. Would match lots of 70's era gold and browns
decor in your vintage kitchen!
Q: Anything currently in your shop with a great story?
A: In my shop there is a set of drinking glasses. I was out with a friend yard sale-ing and we happened upon a sale that didn't seem to have a whole lot to offer. There really wasn't much to see and I just about turned around to leave when in my peripheral vision I saw a box under a table, as if it had been stored away and wasn't for sale. I figured I'd check anyway. The lady running the sale said she wasn't going to set it out for sale because she didn't think anyone would be interested, but she offered to let me take a look. The box was old and beat up, torn in a couple places even. But inside was a complete and immaculate set vintage glasses that I instantly fell in love with. So I made them mine! It was hard to come to the decision to sell them, but alas they are for sale.
Q: What item will you hate to see go and why?
A: Of all the lovelies for sale in my shop I do have a few contenders for the hardest thing to let go of. But I'd have to say the set of three antique tin cookware is at the top. They couldn't be use for cooking now, but would be amazing on a wall! It's vintage, rustic, well aged and has a nice patina...need I say more?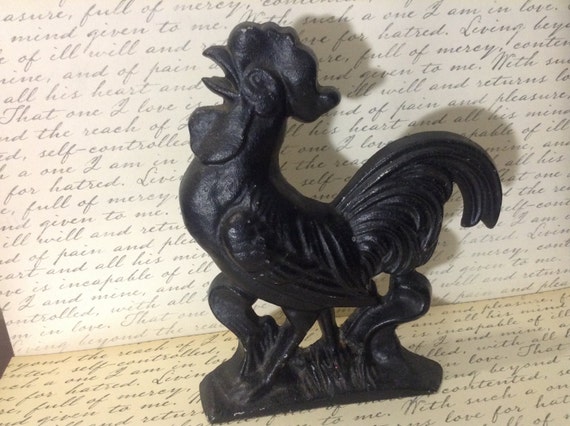 Black Iron Rooster, $10.95 would make a nice kitchen door stop.
Q: Anything else you want folks to know?
A: I'd invite all true vintage lovers to visit my shop and share in my hobby!
Find out more and connect with Tiffany here :