Do you know anyone who actually collects vintage coffee pots? This would be a huge and vast choice for a collector comprising of glass pots, french press coffee pots, aluminum canister pots, commercial pots, plastic pots and home brewing pots. What about enamel coffee pots? As you can tell it would be too numerous to fathom and certainly the collector would want to tailor it down to what appeals to them. Above, a rare Kodak 1970's pot looks, at first glance, like a giant roll of Kodak film. Great for the advertising collector. Although many people thought these pots were only used commercially, we had one in our household growing up. (We had a big family, and loved the coffee.) You can buy it at Light and Time Art, for $350.
If I was collecting coffee pots I must admit, I'd have to go for the gorgeous, like the above French enamelware coffee pot. Obviously from the early 1900's this was lovingly used and imagine how lovely the coffee would look being poured out of this back in the day. The issue of course is with the enamelware over time the items would chip, and possibly rust, so finding them in good displayable condition is hard and rare. The above item retails for $127.10 and that's not a bad price considering how lovely this item is to display. Of course you can't use them , as they are deemed unsafe, but who would want to? This would be a rare gem in the coffee pot collection.
Overlooked and under-collected surely would be the ceramic coffee pots. Many dinnerware manufacturers not only made ceramic coffee pots as specialty additions to their lines, but occasionally you will find whole ceramic sets made with the pot and cups. It's hard to tell if they were originally meant for tea, sake , or coffee but who cares when they are this cool they are a must have addition to the collection.
A big push in the 1960's had many mid century modern manufacturers, novelty companies and the like jumping on the bandwagon selling coffee service sets, and a whole slew came out of Japan for decorative purposes. If you look hard enough you can find real gems to add to your collection, like the one above for only $25 featuring a great Mid Century Modern Design from Circe Collectables on Etsy.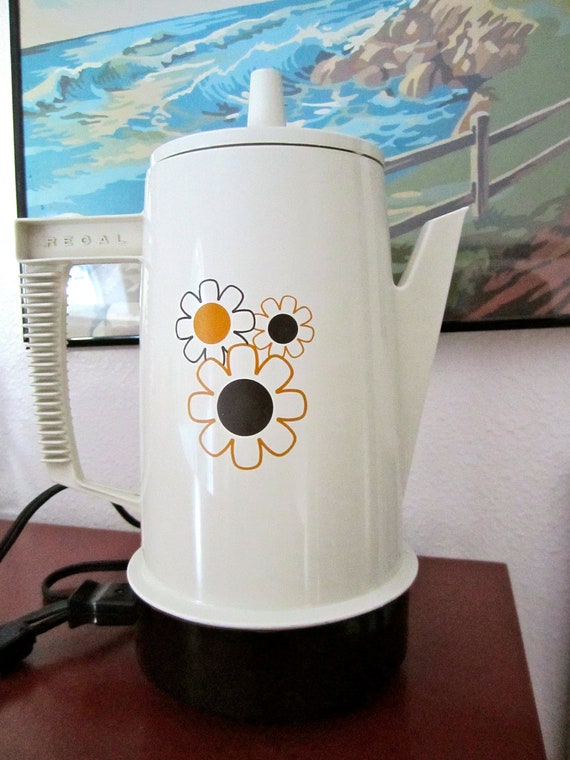 Etsy shop HappyKristen offers this funky Regal coffee pot only $25
Let's not forget
plastic!
Plastic fantastic is a whole other wing for collectors, and great finds can be had like this retro coffee pot (11 cup) available at Happy Kristen on Etsy for $25. Plastic will be the hardest to find, because over time they've been dropped, cracked or burnt. This is a rare gem!
Aluminum coffee pots, although the most common can sometimes still be found unused , in the box, and would be a rare collection addition. This is only $12 at LucyBettyNJune Shop on Etsy.
What do you collect?