Apples of Gold Engagement Ring, this one here.
Vintage weddings are hip, trendy, and in style. This three part checklist will give you a start to finish step by step process on how to have the perfect vintage experience from start to finish. Your checklist is simple yet the engagement rings are the most important. This is going to be something symbolizing the love that you carry, on your finger for the rest of your life! Simply put, here is your checklist:
Antique Engagement Ring
Proposal in a Vintage Setting.
Finding the best Vintage Wedding Dress
Costumes and or era clothing for the wedding party.
Venue with an "Old Feel"
Retro invitations.
Catering that's Delicious on vintage china!
Decorations, from vintage banners to a retro cake!
Wedding music set in the era.
The Perfect Vintage Wedding Ring.
Let's start at the beginning.
1. HOW TO BUY THE RIGHT ANTIQUE ENGAGEMENT RING
For your retro wedding, it's probably crossed your mind to buy an antique engagement ring. Such a thought is dismissed fairly quickly when you've seen some the amazingly high price tags displayed in jewelry stores or online. Also many men believe that antique engagement rings are in a class of jewelry that is fit for only the rich and famous. While this might be true in a lot of cases, you can still purchase a very good quality antique engagement ring without any serious risk of becoming bankrupt. Choosing the right antique engagement ring is just a matter of knowing some of the basics in shopping for antique jewellery.
The following is our shoppers guide for choosing the best antique engagement ring suited to your loved significant other.
Is The Style Suited? One of the first areas you need to address as you browse jewellery stores is to work out what antique engagement ring style is going to suit best to the tastes or preferences of your loved one. Ask yourself is this going to be something that she'll adore for the rest of her life?
What about quality? Look at the design and craftsmanship of the ring rather than just focusing on the size of the gem. Consider the main aspects of the stones such as the colour, cut, clarity and then carat size. A lot of women find the actual design more important than the sizing of the stone or diamond. Also having a smaller diamond of higher quality is going to be better in some cases as it's harder to pick up any obvious flaws. You'll also find a lot of antique engagement rings have very decorative surrounding design it that creates an illusion of a larger size stone or diamond.
Focus On Time Periods You can also make some very appropriate choices in antique engagement rings if you focus on the right time period. For example if you know that your loved one is really into gemstones and not diamonds then you focus your search within the Art Deco era. This era consists predominantly of stones that are rubies or emeralds and also include sapphires and amethysts. You also can potentially find some amazing and stunning designs with the Victorian and Edwardian eras. It's quite remarkable the level of detail and attention that has gone into the designing of rings in these eras.
Final Steps – Checking The Authenticity
After using the above guidelines, chances are you will find what you consider the most suitable antique engagement ring for your loved one. However as a final step, you still must ask the jewellery store for a report or certificate of authenticity that has been done by a gemologist. This will verify if the engagement is as old as the jeweler claims.
As another added precaution you should also get the ring appraised and seek insurance from a 3rd party. This is extra way of getting verification of the quality level of both the stones and metal. Taking these necessary final steps is going to be reassuring for you and will go a long way in giving her the perfect antique engagement ring she's always been dreaming of.
Get more information here.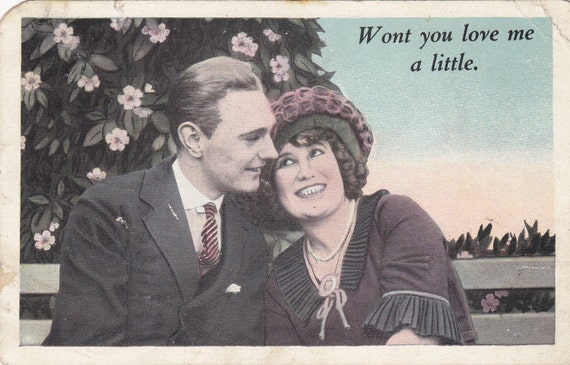 Looks like a romantic setting for a proposal , at least it did circa 1920, this from EphmeraObscura
2. THE PERFECT PROPOSAL
When you think of earlier days, romance was simplistic yet beautiful. A kiss under the moonlight, a walk in the park, sitting on the park bench holding hands, or walking together after getting the best ice cream sundae at the local pop shop. Perhaps your soon to be hubby needs to find the perfect place to utter the words , "Will you marry me?" , even if it is in a retro car at the top of point lookout, after smooching and listening to some 50's be-bop music.
3. FINDING THE BEST WEDDING DRESS
Fit and fabric is very important. If you are going vintage, expect to have some minor imperfections from the previous life. You can life with a few minor tears or small rips in the fabric but the big worry is the OVERALL condition of the fabric. Make sure it's not fitting you like a glove because , if it dry rotten you will find yourself making a quick turn and your dress is blown out of the side, leaving your wedding party staring in horror.... How will you know? Make sure to test a small section of the fabric where no one will see, stretch it and pull it with your hand, is it ripping that easy, if so, as much as you'd like the dress, you may not have found the right one.
Lace is extremely fragile, and that's not the main concern, it's the fabric underneath and the seams that you must worry about, and the fabric that holds the zipper in tact. There are plenty of vintage dresses made within the past
century that will look simply lovely.!
Continue Reading:
Vintage Wedding Checklist Part Two
Vintage Wedding Checkist Part Three
This page last updated 12.2.18 and checked for good links. If you find a dead one please let us know!