Prayers sticks made by Maasaw Howard for my travels.
Bear Spirit Mountain
Recently I was lucky enough to learn about
Bear Spirit Mountain,
an archaeological site in West Virginia found by Matthew and Ingrid Howard. Their intention was to build a home, but it turned out to be so much more. Imagine the shock and disbelief purchasing a property to build a home, only to find your land is loaded with burial sites and indigenous artifacts.
Matthew "Maasaw" Howard cleaning off a rock to expose it's carved face.
Luckily they vowed to protect it and Matthew found the perfect opportunity to tell the story of his ancestors though the book
Adonvdo Yona (Bear Spirit) Mountain: An Ancestral Awakening
Amazingly enough Howard was led to the wonders of the property thanks to the help of a black bear. If you believe in anything extraordinary, you may wish to see how the legend of the Black Bear Spirit is associated with the Cherokee. I'm so pleased for them!
A few things from the backyard and my travels.
Collecting Artifacts
Now, let's move on to something we all love here at
Vintage Chalet
, and it's collecting. Native American Artifacts and collecting relics of indigenous people are getting more and more popular. In fact, one Archaeologist, RPA Jack Hranicky has written over 50 books alone --- many guides to collecting or identifying arrowheads, spear points and tools!
Do So Respectfully
Many people collect Native american Artifacts now, and should do so respectfully. Always obtain permission before searching someone's property, and do not remove artifacts from burial mounds or grounds. Those who like to rob graves have been known to experience quite bad kharma, making that ebay sale just not worth it! Would you want someone to rob your grave?
Beware of Fakes and Frauds, and Reproductions
Unfortunately there are tons of reproductions, fakes and frauds on the market. Take for instance,
this guy on Facebook who makes wonderful reproductions (jewelry, props, costume things)
. He carves them now as his ancestors did then. There are tons of items on Etsy that are reproductions of ancient artifacts, and not all specify so.
Seller Auramore has these listed as Clovis People Arrowheads, but they only $4.48 each. The cost should tell it all.
The problem is, let's say Judy orders a reproduction basalt arrowhead necklace and in ten years sells it at a flea market because she is tired of wearing it. That flea market buyer now sells it as an original online to someone else. Someone just paid $149 thinking they were getting an ancient artifact when in fact they are getting a used a handmade handcrafted NEW necklace.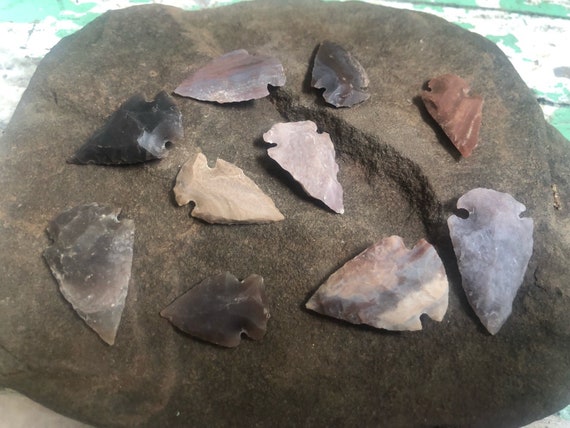 The arrowhead collection above was purchased in 1980 at a trading post in Maine, however, it is uncertain if they made them for travel gifts or souvenirs or if they are old. So they are priced accordingly and great for crafters who wish to make earrings or necklaces.
A Rock is Old
Unfortunately we are talking that most of these items are made of rocks and stones, so all stones are old and antique, some millions of years old, but is the CRAFTSMANSHIP that old? That is the main issue with collecting Native American artifacts.
Tip: Buy From Ethical Source
Tip: Do Your Homework
Beware: Of Reproductions
Beware: Of Sellers Who Have Plethoras of Stock
Collect Respectfully
Ask the Seller for Provenance or Additional Information
In my next post we will go over types of items, and show you them.

You May Like to watch this video: