Barbecue Feast by Warren Lynn
Artist Warren Lynn creates digitally stunning works of art suitable for display in malls, professional offices such as the doctor's or dentists's offices, and even for home use. He creates the artwork in high resolution for sizable wall art which, at 40" x 60" makes for interesting conversation pieces. Today this brings me to writing a bit about vintage apple items mixed with modern day works of Warren's art. Above, gorgeous rainbow color combinations make for a deliciously vivid piece called "Barbecue Feast." Below, vintage apple products with the rainbow of colors in the apple commend high prices and are desired among collectors. It seems a whole new line of rainbow Apple products have appeared on the web, Etsy and Ebay. Beware that these are not "modern day remakes" when paying antique prices.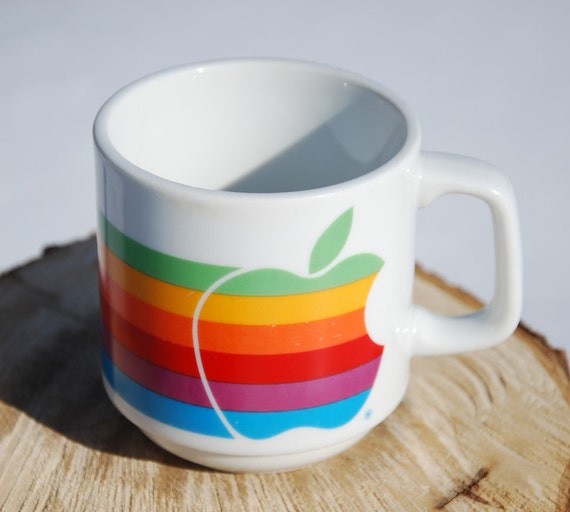 Vintage Apple Computer Mug @SunflowerGarlicFarm
When designing Apple computers, Steve Jobs was fond of not only functionality but superior design. I would like to think that design and style was as important to him as being at the top of the innovation scale. To this date Apple's design team thinks of everything from packaging to design. When I look at Warren Lynn's work I see clear and distinct design lines that incorporate and beautify the streamlined ideas that flourish into his art.
Warren is a computer engineer from Los Angeles. He creates from his Apple iMac computer and the items are available for purchase on online gallery
veridycus
. Above, the Hancock design was inspired by a filming location in Los Angeles mixed with the views of the "Hollywood" sign. This is certainly one of my personal favorites, and the fact that any of his creations come on bags, pillows, tshirts or accessories on the website is even better. Below, neutral colors were used by Apple in early computer production. The greyish creamy neutral colors made the Apple I and II.
Vintage Apple Modulator - Way back when Apple II was connected to the TV!
"Prehistoric Fish" is my favorite Warren Lynn work. It reminds me of Murano glass mixed with many colors.
The Prehistoric Fish above shows how creative one can get on an iMac, mixing digital creativeness with stunning design. Below, in 1983, you would have to read the Apple Works Tutorial book, which was included in the purchase of your Apple IIe or IIc Computer. Today, ephemera and books like the one below are highly sought after among collectors. Yet the market is slim for working Apple computers that are in use today.
I myself have quite a collection of vintage Apple products, as now I look back to the past to the Apple Computer of the 80's and realize just how far we have come. As for Warren Lynn, he's constantly creating and looking to the future with new designs.
If you know someone looking for great artwork, please share. He even offers free monthly downloads (for non commercial use) on his website.
Find them here:
https://veridycus.com
Or, sign up to follow him here:
https://gumroad.com/warrenlynn