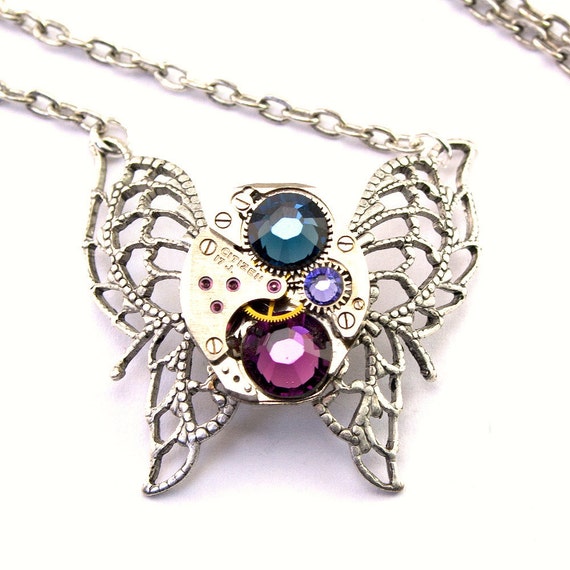 Retro creation Steampunk Butterfly Necklace $55from London Particulars!
Steampunk Craze : Vintage Broken Parts Meets Artist Lora for Upcycled Love
What do you get when you combine broken jewelry and watch parts with someone for a keen eye for all things vintage, period and artsy? New recycled from old handmade steampunk jewelry creations by
London Particulars
that's what! Hence, you have a very cool and chic Etsy shop run by Lora from Seattle who has been selling Steampunk jewelry since 2008.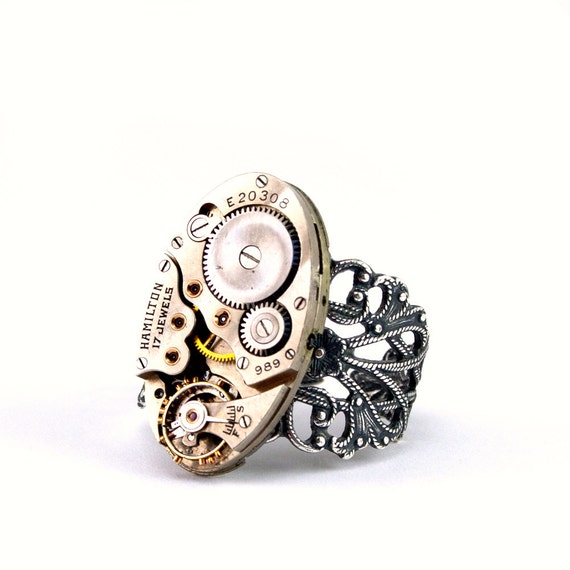 Gorgeous Ring $55 Upcycled jewelry creation by Lora at London Particulars
This particular ring above features a Waltham Oval Vintage Swiss 15 Ruby Jeweled Watch Movement which has been upcycled from it's former states. It's set upon an intricate filigree adjustable ring which reeks of Neo-Victorian style. Lora certainly has an eye for the unique,the creations are affordable priced and no two are exactly alike. Here is your chance to wear that one of a kind necklace, bracelet or ring you've always wanted.
Simplistic yet elegant and screams Victorian is this bracelet, $62 at London Particulars on Etsy
With the amount of vintage watch parts floating around, and the creative mind of Lora, there seems to be no lack for new designs.
Connect with London Particulars:
On Etsy
On Pinterest
Facebook Page
Tweet them @SteampunkShoppe
Google Plus Them!