Smurfs!
Oh how I love thee. Over the years the Smurfs have been frozen in time, ageless and collecting Smufy memorabilia can be fun and exciting. Thousands of licensed items have been made. I wonder how some have survived after all these years. Many are worth lots of money, others are just so unique you have to have them. Here are a few of my favorites.
In our day we have the smurf house and figures. The earlier figures were sold in Hallmark stores and sold in tiny boxes. Over the decades a huge variation of smurfs have been made in several countries with many different markings, colors and variations.
Mold markings are often found on the bottoms in the form of a tiny number, and although the date and stamp may indicate that year the smurf was created, not necessarily the year the smurf was made. Due diligence should be done on investigating your smurf value. Here's a great site to start with called
"BlueBuddies.com"
which boasts that it's the world's largest smurf compendium and we tend to agree!
Home decorations, toys and games, party favors and figurines were just a few things you'd fine. Everything from plush animals to bedsheets were smurfed out. These cute little creatures made their ways into many a home.
Over the years many of the sheets and pillows have been used, gained holes or stains and are hard to come by in good vintage condition. If you are lucky you will still find them vibrant like the one above. Often sheets and curtains have been refabricated and upcycled into pillows and handmade items which also make for fun collecting. Below we have original mint in package memorbilia which has not been used also getting harder to find.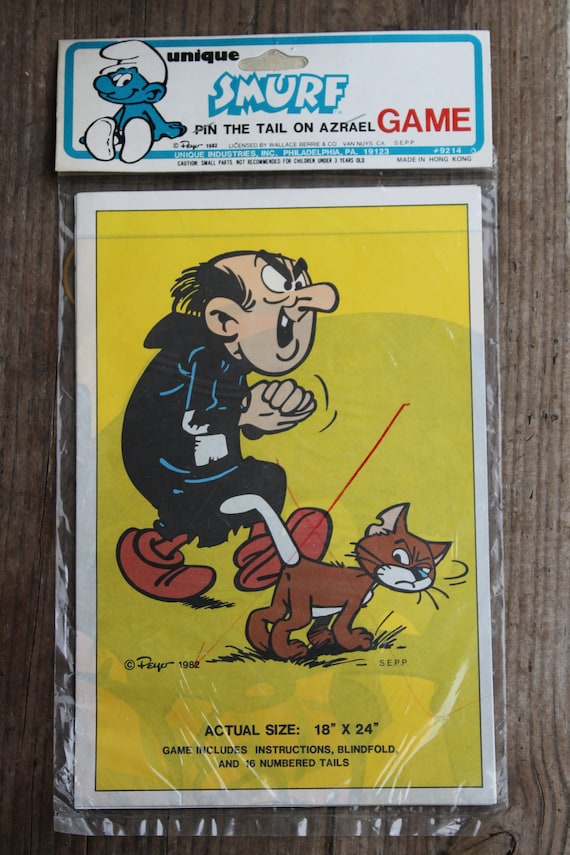 Rare, Hong Kong Pin the tail Game $18 here
The Kitschy Corner
has a lot of period memorabilia that's worth a look see stocked by Lona who is in the "Michiana" area. She says, "If you're ever in the Southern Michigan/ Northern Indiana area, s
top by Booth #23 at the Michiana Antique Mall! I have lots of amazing finds on sale."
So many Smurfs so little time. Gargamel and his cat Azrael kept the smurfs on their toes. Papa Smurf and Smurfette looked different than the rest. Finding vintage Azrael Merchandise is getting skimpy. It's hard to find that cute cat. Meow!